2012 Gulf of Mexico dead zone among smallest recorded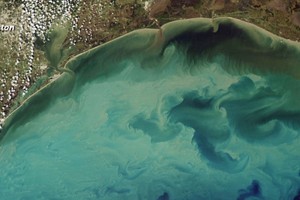 Drought throughout the Midwest has led to the fourth-smallest Gulf of Mexico dead zone since 1985, according to the federal National Centers for Coastal Ocean Science.
A mid-summer hypoxia survey carried out by the Louisiana Universities Marine Consortium found a 2,889-square-mile dead zone, which is less than half the area covered in 2010 and 2011.
The smaller dead zone is likely the result of drought in the Mississippi River watershed, which led to a smaller dose of nutrients washing into the Gulf to fuel algae growth.
The drought also cut the volume of water flowing through the Mississippi, which limited the hypoxia-promoting stratification that occurs when fresh water enters the Gulf and forms a layer atop the denser ocean water, which prevents mixing.
(Via the Northeast-Midwest Institute's Mississippi River Basin Blog)

Image: NASA Earth Observatory