50-year fertilizer study shows mixed results on soil quality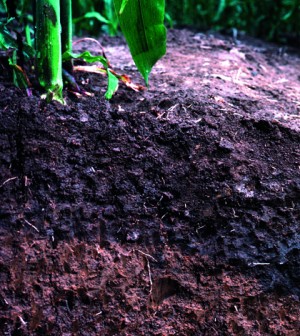 Soil profile (Credit: NRCS)
A new report authored by researchers from the University of Nebraska-Lincoln suggests that the use of inorganic nitrogen and phosphorus for fertilization improves crop yields, but can have negative impacts on soil quality, the American Society of Agronomy has reported.
A study of crop lands in western Kansas has shown that inorganic fertilization increases organic carbon stocks while damaging soil's structural quality.
Researchers collected soil samples from experimental fields fertilized with various amounts of inorganic fertilizers to determine how different nutrient levels might impact soil quality. The results showed that applying nitrogen and phosphorus at high rates can expedite soil erosion and cause other structural issues.
Researchers are currently experimenting to determine if amplified fertilizer use can work in conjunction with soil conservation practices.
Image: Soil profile (Credit: NRCS)