Activists want clarity on monitoring from Susquehanna River Basin Commission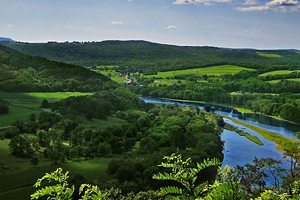 A group of non-profit environmental organizations wrote a letter to the Susquehanna River Basin Commission requesting more citizen involvement and transparency in the organizations monitoring and assessment schedule.
Organization representatives specifically asked about the timeline for water quality testing results the commission will publish this December.  They also ask for a schedule for a 2013 cumulative impact analysis of waters from which oil and gas companies draw water for hydraulic fracturing.
Finally, the organizations request citizen involvement in writing of memorandums of understanding with environmental collaborators of the commission.
Members of Stewards of the Lower Susquehanna, Inc.,  Sierra Club, Delaware Riverkeeper Network, Clean Water Action, Earthworks OGAP, PennEnvironment and PennFuture all signed the letter addressed to SRBC Executive Director Paul Swartz and Richard Cairo, SRBC's lawyer.
Image: North Branch Susquehanna River (Credit: Nicholas A. Tonelli, via Flickr)