Algae causing fish kills near Baltimore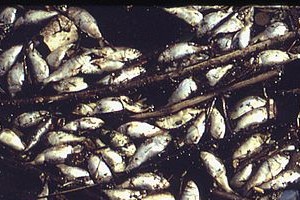 Tens of thousands of fish are dead in the Baltimore area after early algae blooms depleted oxygen levels in the upper Chesapeake Bay, according to a report from the Baltimore Sun.
Algae blooms are common in the Bay, driven by nutrients from farm and lawn fertilizers and sewage discharges. But the blooms are early this year, thanks to a warm March combined with an additional influx of nutrients from last summer's Tropical Storm Lee and a recent sewage leak. The decaying algae is consuming oxygen, leading to fish kills in tidal channels and creeks.
Read more at the Baltimore Sun.
Image credit: U.S. National Archives and Records Administration.