Algal blooms affect health of Florida's Indian River Lagoon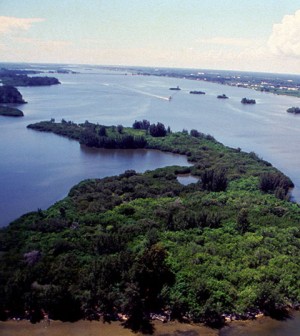 Indian River Lagoon (Credit: U.S. Fish and Wildlife Service, via Wikimedia Commons)
Managers from the Harbor Branch Oceanographic Institute oversee a network of monitoring stations to track water quality in Florida's Indian River Lagoon, according to Health News Florida. The lagoon is suffering from nutrient runoff, they say.
Water released from nearby Lake Okeechobee – which has seen higher levels from frequent rains – carries large quantities of nitrogen and phosphorus into the lagoon. The result has been algal blooms in the lower half of Indian River Lagoon.
As the blooms have minimized food choices for creatures there, an increase in manatee and dolphin deaths has been recorded. There is a clear link between less sea grass and manatee casualties, lagoon caretakers say, and that for dolphins still points to the lagoon's overall poor health.
Image: Indian River Lagoon (Credit: U.S. Fish and Wildlife Service, via Wikimedia Commons)