American Flamingos Find Their Way Back To Florida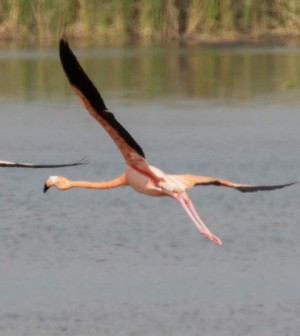 American flamingoes. (Credit: Curt Dalton)
According to the National Audubon Society, wild American Flamingos have not inhabited Florida for over 100 years. Driven away by early settlers invading their territory and taking feathers and eggs, they were never believed to return. But more recently, the birds are finding their way back, albeit in an unusual location.
In the past few years, a large stormwater treatment area, a man-made wetland that covers 9,000 acres in central Florida, has been providing a habitat for the flamingos. Last year, the record count was 147 and tourism to see the birds was beginning to cause a stir.
According to local birders, it is a sight to see. But they continue to wonder whether the birds are wild or have fled from nearby captivity in Miami. Scientists in the area are trying to install tracking devices on the birds to find out, but have yet to capture any.
This year, there are currently eight birds and although that is no record breaking number, Audubon has reported that the wetlands are now a permanent dwelling for them. Though the wetland is an unusual place, as the birds previously inhabited the everglades in the southern part of the state, the birds seem to be at home.
Top image: American flamingos. (Credit: Curt Dalton)