App enlists public in monitoring forest fire risk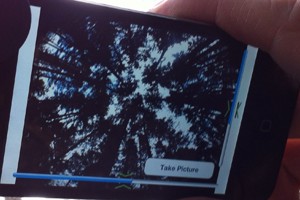 A smartphone app in development will give the public the ability to log data on forest fire risk during a simple walk in the woods, according to a press release from the University of British Columbia.
Users scan the forest from the canopy down and photograph areas that match descriptions of fire risks. They then send the photographs, GPS coordinates and comments to a database.
The goal of the app is to create more safety and awareness in the forests thanks to many informed users. It also will help scientists and rangers who patrol the forest on foot to monitor forest fire risks.
Much of the data collected on forest fire risk is done from above through airborne and satellite monitoring. The new app could give scientists a greater spread of information on understory fire risks .
The app was designed by Nicholas Coops, UCB professor of forest resources management, and Colin Ferster, a UBC Ph.D forestry student. Field testing is underway at UBC Okanagan.
Image: Colin Ferster tests the app on his smartphone (via UCB Public Affairs)