Arctic winter ice season 24 days shorter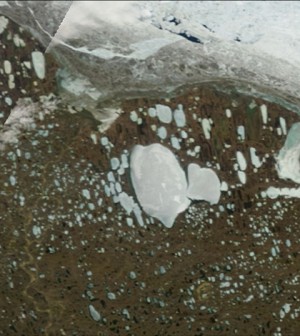 Ice-covered Lake Teshekpuk on Alaska's Arctic Coastal Plain as seen from NASA's Terra satellite on June 6, 2012 (Credit: NASA)
A study from the Canadian University of Waterloo has found that Arctic lakes are frozen for 24 fewer days than in 1950, according to Newsroom America. The investigation was sponsored by the European Space Agency.
The researchers determined that climate change has reduced the thickness of the ice, saying that it's only about a foot deep by the end of the winter season. In 2011, they say that only 26 percent of Arctic lakes froze all the way to the bottom, compared to 62 percent in 1992.
The study spanned from 1950 to 2011 and looked at more than 400 lakes near Alaska's North Slope. It is the first time that researchers have been able to compare so many years of data. Full results are published in The Cryosphere journal.
Image: Ice-covered Lake Teshekpuk on Alaska's Arctic Coastal Plain as seen from NASA's Terra satellite on June 6, 2012 (Credit: NASA)