Army Corps meeting to update on southern Mississippi River restoration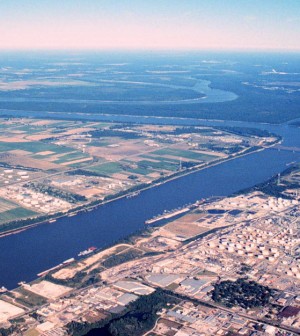 An aerial photo of the Mississippi where it flows through Baton Rouge (Credit: USGS)
The U.S. Army Corps of Engineers will host a public meeting at the University of New Orleans this Wednesday to share updates on efforts to restore the southern Mississippi River and Louisiana Coast, according to an Army Corps release.
Army Corps rehabilitation efforts for Louisiana's section of the Mississippi started in 2011 with a goal of refurbishing the coast using the river's sediment, nutrients and water.
A technical session will run from 12:30 p.m. to 5 p.m.  Several presentations will detail hydrodynamic modeling, delta management and data collection.
The second half of the meeting will be an overview presentation, followed by a question and answer session and open house. It will run from 6:30 p.m. to 8 p.m.