Artificial sweetener detected in Lake Erie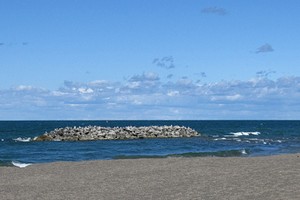 A Mercyhurst University professor found sugar additives, which mostly pass through the human body undigested, in Lake Erie, according to a Mercyhurst press release.
Amy Parente, an assistant professor of chemistry and biochemistry at Mercyhurst, wants to know what affect indigestible sucralose has on Lake Erie ecology and human consumption of water.
Parente detected measurable amounts of the artificial sweetener in Lake Erie with the help of five undergraduate research assistants. She received a grant from the Regional Science Consortium at the Tom Ridge Environmental Center to continue research on sucralose in the lake.
Sucralose is a chemical found in many sweetened products like candy. It can alter water taste. It also gives false signals to the body indicating the presence of nonexistent nutrients in water, according to the release.
Image: Lake Erie at Presque Isle State Park in Pennsylvania where the sucralose study was conducted (Credit: Ken Lund, via Flickr)