As air temps rise, plants release more cooling aerosols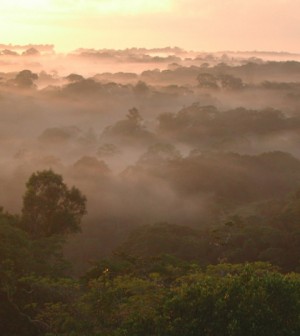 New research indicates that as temperatures increase, plants release gases that help cool the atmosphere, the International Institute for Applied Systems Analysis has announced.
The study identified a negative feedback loop where elevated temperatures from global warming amplified plants' output of natural aerosols that help form clouds that reflect sunlight.
Researchers measured the levels of aerosol particles in the atmosphere, concentrations of plant gases, temperature and the distance of the boundary layer from the ground at 11 sites throughout the world.
The data shows that plant emissions counter only 1 percent of warming on a global scale, but up to 30 percent in isolated rural areas.
Image: Water droplets condense around aerosol particles in the Amazon (Credit: Fabrice Marr, Creative Commons)