Atmospheric carbon dioxide crosses 400 parts per million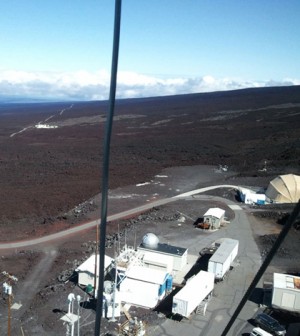 Carbon dioxide measurements at the National Oceanic and Atmospheric Administration Mauna Loa Observatory surpassed 400 parts per million this month, according to a NOAA press release.
The measurement was independently verified by both NOAA and the Scripps Institution of Oceanography.
Concentrations of carbon dioxide in the atmosphere have increased every year since the station started recording data in 1958. The rate of carbon dioxide entering the atmosphere has increased threefold since NOAA started taking measurements.
The Mauna Loa Observatory is the oldest continuous carbon dioxide monitoring station in the U.S.
Image: The Mauna Loa observatory where CO2 data is collected (Credit: Scripps Institution of Oceanography)