Atmospheric carbon dioxide levels to surpass 400 ppm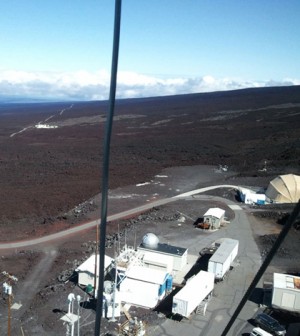 Carbon dioxide sensors at Mauna Loa, Hawaii, will likely soon record atmospheric levels of CO2 in excess of 400 parts per million. In response to the readings, the Scripps Institute of Oceanography is launching a daily update to its Keeling Curve, according to a release.
The level is a milestone in climate science, as 400 ppm readings would be the highest yet recorded. Pre-1958 levels of carbon dioxide didn't exceed 300 ppm, according to Scripps scientists.
The measurements taken at Mauna Loa make up the longest continuous record of carbon dioxide in the world, starting from 316 ppm in March 1958. Historically, May has shown to have the highest carbon dioxide concentrations on the Keeling curve.
Image: The Mauna Loa observatory where the Scripps CO2 data is collected (Credit: Scripps Institution of Oceanography)