Atmospheric rivers may impact Sierra Nevada snowfall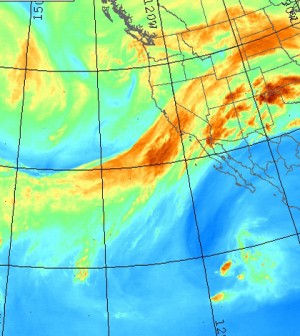 Satellite image of atmospheric river in the eastern Pacific Ocean (Credit: United States Naval Research Laboratory)
Analysis of atmospheric rivers and their interaction with weather systems may be a good indicator of winter storms approaching the West Coast, which can bring heavy runoff and flooding in the spring, according to a NASA release.
Researchers from NASA, the National Oceanic and Atmospheric Administration and the University of California Los Angeles found that when atmospheric rivers contact a somewhat rare low pressure system caused by a pair of oscillating weather patterns, heavy snowfall will follow in the Sierra Nevada Mountain Range.
Findings were determined through analysis of 50 years of weather data with a focus on the particularly snowy winter from 2010 to 2011.
Atmospheric rivers are formed when narrow streams of mile-high air pass over the Pacific collecting moisture.
Image: Satellite image of atmospheric river in the eastern Pacific Ocean (Credit: United States Naval Research Laboratory)