Authorities monitor pollution effects of Washington mudslide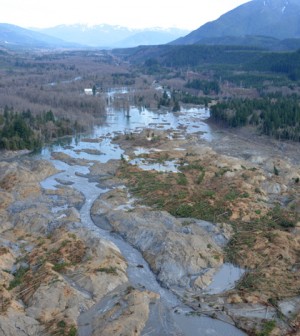 Aerial survey of the Washington mudslide aftermath (Credit: King County Sheriff's Office)
State and federal entities have moved into the landslide-stricken community of Oso, Wash. to monitor for potential contaminants, NPR reported.
Officials from the Environmental Protection Agency and the Washington Department of Ecology have set up operations in Oso to determine environmental and public health risks. The landslide, which killed at least 33 people and destroyed dozens of homes, is responsible for little pollution, said Dick Walker of the Department of Ecology.
Although buried septic tanks, household chemicals and bodily fluids provide some potential for exposure, the sheer volume of mud has likely diluted any contaminants past the point of danger.
Image: Aerial survey of the Washington mudslide aftermath (Credit: King County Sheriff's Office)