Beijing government reacts to inundation of PM2.5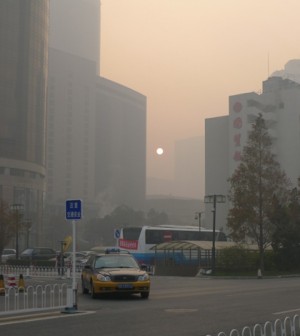 Smog in Beijing in 2011 (Credit: egorgrebnev, via Flickr)
Citizens in Beijing were exposed to PM2.5 particulates at levels ten times the World Health Organization's recommended exposure limits, according to a Bloomberg Businessweek report.
Measurements on Oct. 28 of fine particulate in Beijing's famous Tiananmen Square peaked at 257 micrograms per cubic meter.  WHO recommends daily exposure of no more than 25 micrograms per cubic meter.
Beijing city government officials are curbing coal burning and vehicle usage to reduce emissions.
A new air quality improvement policy has been announced with hope that it can reduce 25 percent of PM2.5 density by 2017. New vehicle emissions standards will be enacted by the government in an effort to reduce emissions and fuel consumption.
Image: Smog in Beijing in 2011 (Credit: egorgrebnev, via Flickr)