Black substance in Anacostia River is algae, not oil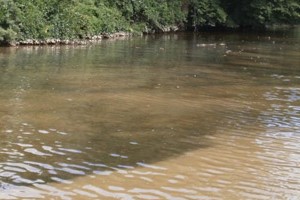 A black substance in Washington D.C.'s Anacostia River that was originally suspected to be oil or another hazardous substance is actually a rare algae bloom, according to the EPA.
The bloom, which biologists determined posed no threat to fish or birds, occurred when a dinoflagellete species common to Chesapeake Bay estuaries flourished in the river's ideal temperature and nutrient levels. Officials continue to monitor the bloom, which rain and cooler temperatures are already killing off.
Read the complete story at EPA.gov.
Image Credit: Anacostia Watershed