Blue-green blues: High temperatures, record-high phosphorus runoff, and frequent CSOs cause one of Lake Erie's worst algal blooms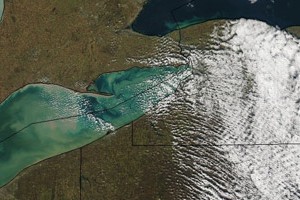 Lake Erie rose from the dead in the 1980s, but it appears to be in the midst of a relapse.
The lake is now under attack from algal blooms that rival the severity of those from the late 1960s and early 1970s, a time when the news media declared Erie a "dead lake" for its thick algal mats, low dissolved oxygen, and inability to support most aquatic life.
Algae foul shorelines, lower property values, and deplete the water of oxygen that aquatic life needs to survive. Worse yet, the lake is besieged by Microcystis, or blue-green algae, a toxic form of algae that is considered harmful to wildlife and humans. It can produce several liver and nerve toxins, and, unlike other algae, it is completely useless to the lake's food web. The blue-green algal blooms in western Lake Erie are so severe they can be seen from space.
This was the third summer in a row of excessive blue-green algae in the lake, according to Tom Bridgeman, a researcher at the University of Toledo's Lake Erie Center. Some scientists and lake advocates worry it's a warning sign; the Great Lake that once rose from the grave is sliding backwards.
The resurgence of algal blooms has again worsened the lake's dead zone — a hypoxic area devoid of dissolved oxygen that appears in the central basin during late summer. The Ohio Division of Wildlife Sandusky Fish Research Unit even suspects the toxic Microcystis could be part of the reason Lake Erie walleye hatches have been poor in recent years. Walleye thrived when algal blooms weren't an issue, but the last major hatch occurred in 2003. They've been mostly below average since then.
Nutrient loading, or eutrophication, that feeds the algae has worsened due to record-high phosphorus runoff and a rising number of sewage overflows. Moreover, the summer's hotter-than-average temperatures exacerbated the situation and increased the rate of algal growth. This combination of factors created something of a perfect storm in the vulnerable western basin, which lies sandwiched between Detroit and Toledo and collects sewage overflows from both large municipalities as well as agricultural runoff from surrounding farmland.
Two of the lake's major tributaries — the Maumee and Sandusky rivers — showed some of their highest-ever phosphorus levels this summer, according to a report released in July from scientists at Heidelberg University's National Center for Water Quality Research.
Researchers took three samples per day from April through June and measured 261 tons of dissolved phosphorus in the Maumee River, which is the highest level the university has recorded in its 33 years of monitoring the river. Additionally, levels in the Sandusky River during the same period were at their second highest rate in 35 years.
Dissolved phosphorus entering the Maumee and Sandusky rivers has more than tripled since 1995, according to the Ohio Lake Erie Phosphorus Task Force. Palpable examples of this worsening nutrient loading can be seen elsewhere within the Lake Erie watershed. Take for example Grand Lake St. Marys, Ohio's largest inland lake, which experienced a massive blue-green algal bloom that was so intense the lake had to be completely shut down.
Runoff from farms is the leading source of this phosphorus pollution. Lake Erie's drainage basin covers 30,140 square miles, and much of this land is used for agriculture. Excess phosphorus-based fertilizer is commonly applied to farmland, and rain washes it into nearby waterways.
Phosphorus levels were particularly high this year because heavy rainfall in the spring and early summer generated greater than usual farmland runoff, according to Ken Krieger, director of the National Center for Water Quality Research at Heidelberg. Many scientists associate these weather fluctuations with global climate change. In fact, research by the University of Illinois and Texas Tech University for the Chicago Climate Action Plan indicates that precipitation could increase by as much as 20 percent by the end of the century.
Adding to the mess, the Great Lakes are in the midst of what some have termed a "sewage crisis." Combined sewer overflows, or CSOs, have worsened thanks to the heavy rainfall and increased urbanization.
Combined sewer systems collect stormwater runoff, along with raw sewage and industrial wastewater. They normally flow into a water treatment plant. During a sewer overflow, however, this toxic brew is released directly into nearby surface waters.
Not only does the overflowed sewage create a productive breeding ground for harmful bacteria, such as E. coli, it also serves as another source of excessive nutrient loading that feeds algae.
From January 2009 through January 2010, five U.S. cities — Detroit, Cleveland, Buffalo, Milwaukee and Gary, Ind. — discharged a cumulative 41 billion gallons of untreated sewage and stormwater into the Great Lakes from combined sewer systems, according to a new report from Healing Our Waters-Great Lakes Coalition.
Toledo alone has released raw sewage into Lake Erie tributaries, such as the Maumee River, during every month for the past year, including the winter, according to The Toledo Blade. Two incidents during the summer lasted more than 24 consecutive hours. In May, there were 127 Toledo-based overflows, and June had 112.
Increased funding from sources such as the $475 million Great Lakes Restoration Initiative is helping to support projects that aim to mitigate or at least predict harmful algal blooms. Many experts warn, however, that significant widespread reductions in phosphorus runoff and CSOs are needed to cure Lake Erie of its algal affliction.
Image credit: University of Maryland, Baltimore County