California lake stench spurs air monitoring network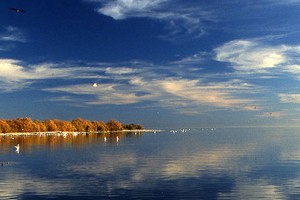 California officials approved an air monitoring network near a California lake after a particularly smelly outgas event last fall left residents looking for fresh air,  according to a Press-Enterprise article by Janet Zimmerman.
A powerful thunderstorm stirred up the Salton Sea in southern California, causing a release of hydrogen sulfide, which sent a stench of rotten eggs into the San Fernando Valley.  Zimmerman reports hundreds of residents called 911 to report the odor.
A $200,000 air monitoring network featuring two stations will be constructed near the lake to monitor hydrogen sulfide levels.
Foul odors are a common problem at the lake thanks to fish kills, low dissolved oxygen and hydrogen sulfide.
Image: Salton Sea (Credit: Rman 348, via Wikimedia Commons)