California Sea Grant announces San Francisco Bay Delta projects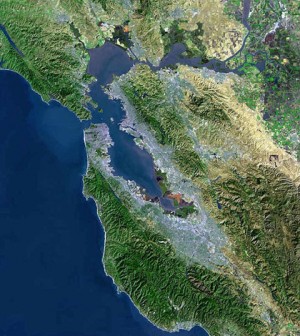 The San Francisco Bay area (Credit: USGS, via Wikimedia Commons)
The California Sea Grant will coordinate with 10 research groups on new projects to better understand the San Francisco Bay Delta, according to an announcement from California Sea Grant.
Research teams from the University of California Berkeley and University of California Santa Barbara will examine Chinook salmon growth trends and spawning.
Researchers from UC Berkeley will use custom water quality drifters to track mixing, water quality and phytoplankton.  A team from NASA's Jet Propulsion Laboratory will evaluate and map methyl mercury concentration in the delta.
A team from the University of California Los Angeles will analyze peaty soil beneath the bay to evaluate the effects of earthquakes on its decomposition.
Image: The San Francisco Bay area (Credit: USGS, via Wikimedia Commons)