Caloosahatchee Estuary replenished by water releases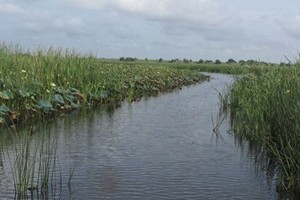 After south Florida's record-breaking drought this fall, water levels are stable enough in Lake Okeechobee to help replenish nearby Caloosahatchee Estuary. The U.S. Army Corps of Engineers is releasing water from the lake into the estuary in increments to simulate rainfall. The release will help local agriculture groups that depend on water from the lake in times of drought.
"Thankfully, we received enough rainfall during the last few months to move Lake Okeechobee out of extreme drought levels and into a normal range," said Julie Sanchez, U.S. Sugar spokeswoman to the Palm Beach Post. "This provides a measure of relief for all of us."
Palm Beach area residents faced water restrictions this summer, including reducing lawn waterings to once a week. Many of the restrictions were lifted in November after relieving rains came in October.
Read more at the Palm Beach Post.
Image credit: Audubon of Florida