China's first water census finds fewer rivers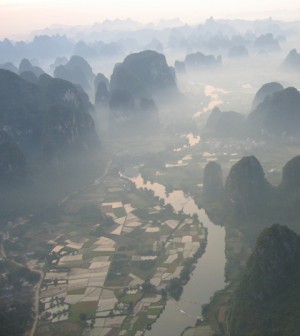 The Chinese Ministry of Water Resources released its first-ever water census in March, according to the South China Morning Post. The government had previously estimated China had more than 50,000 rivers with catchment areas of at least 100 square kilometers, but the survey found only 22,909 rivers meeting that criterion.
The group in charge of the census says the difference is due to inaccurate estimates of the past, but also points to climate change and the loss of soils and water that may have resulted from it. The older estimate was generated using maps that dated back to the 1950s.
The 2013 water census also revealed that many rivers in China don't have adequate flood prevention measures in place. It noted that 17 percent of the surveyed rivers were deemed fit for use, while just a third have flood protection construction projects underway.
Image: Yulong River Valley (Credit: HodgsonB, via Wikimedia Commons)