Clemson studying construction site turbidity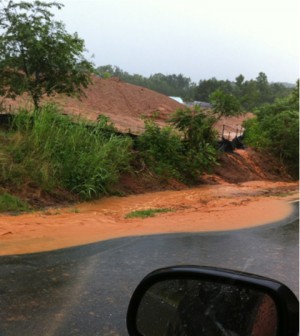 Researchers at Clemson University will help the South Carolina Department of Transportation monitor pollutants discharged from construction sites, according to a release. The state agency wants to make sure it is ready for future federal pollution requirements.
Turbidity monitoring near active SCDOT construction sites will judge the effectiveness of the agency's stormwater runoff protocols. SCDOT will then design enhanced methods to better control runoff from construction sites.
Heavy metals, toxic substances and biological pollutants are all associated with runoff from the sites. The study to find better ways to manage the pollutants is funded by a three-year grant from the federal government.
Image: Sediment runoff from a construction site (Credit: Clemson University)