Climate change to affect one-third of animal species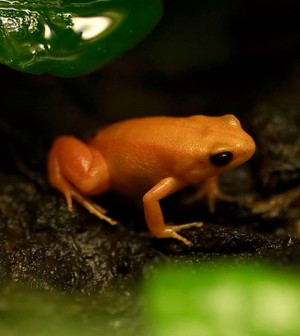 Researchers at England's University of East Anglia say that one-third of animal species could see losses from climate change this century, according to The Guardian. Half of all plants, they say, will also likely be affected.
If nothing is done, an estimated 57 percent of plants and 34 percent of animals will likely lose half or more of their habitat range. Damage could be reduced, however, if emissions of carbon dioxide are reduced. If emissions peak in 2030, losses can be reduced by 40 percent.
There has been much research into the effect of climate change on endangered species, but the East Anglia study looks deeper into its effects on more common species. Computer models were used to predict the plant and animal losses, with researchers noting that even small declines in species can disrupt ecosystems.
Image: Critically endangered golden mantella (Credit: Paul Albertella, via Wikimedia Commons)