Coastal buoy helps determine E. coli presence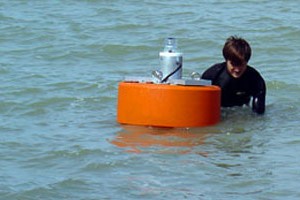 The Regional Science Consortium in Erie, Pennsylvania recently added a NexSens MB-300 water quality data buoy to its real-time monitoring network. Housed within the coastal buoy along Lake Erie's shores is a YSI 6920 V2-2 multi-parameter water quality sonde that samples for temperature, conductivity, pH, dissolved oxygen, and turbidity.
The real-time water quality buoy is a valuable supplement for researchers, as they had previously been collecting samples manually to test for these parameters. This data is now collected using NexSens data logging technology. It is then transmitted via real-time radio telemetry to a project base computer.
The weather and water quality data collected from the NexSens data-logging radio network augments a predictive model for the determination of E. coli contamination on the beaches of Lake Erie at Presque Isle State Park. It is part of a complex system that provides information for making decisions regarding beach advisories and/or swimming restrictions. For more information or to view real-time data, visit: http://v4.wqdata.com/webdblink/trec.php.
About NexSens Data Buoys
NexSens data buoys are ideal for coastal buoy applications, as well as monitoring in reservoirs, lakes, rivers, and streams. These buoys can be equipped with temperature strings, multi-parameter sondes, Doppler current meters, weather stations, and many other monitoring instruments.
To learn more about NexSens data buoys, see Water Monitoring Buoy Systems. Furthermore, to speak with a Fondriest Environmental product specialist about using these data buoys for your next application, call 888.426.2151 or email customercare@fondriest.com.