Collaboration aims to aggregate, analyze mercury data for Western North America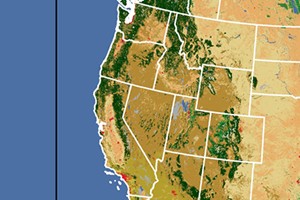 A group of scientists will compile data on mercury accumulation in the Western U.S to understand how historically heavy industry and high emissions affect the region, according to a National Water Quality Monitoring Council newsletter. (PDF)
The team will be led by scientists from the Biodiversity Research Institute and supported by the U.S. Geological Survey. The group's goal is to gather existing data from the past few decades and assess mercury accumulation, cycling and ecological risk.
This project will be the third mercury study headed up by BRI. Previous data compilations were completed on the Great Lakes region and northeastern North America.
Anyone interested in contributing to this effort contact: David Evers (david.evers@briloon.org), Collin Eagles-Smith (ceagles-smith@usgs.gov), Mark Marvin-DiPasquale (mmarvin@usgs.gov), or Jim Wiener (jwiener@uwlax.edu).
Image: A selection on the study area for the Mercury Cycling, Bioaccumulation, And Risk Across Western North America project (Credit: Biodiversity Research Institute)