Colorado River continues to dwindle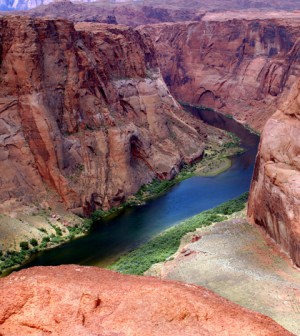 The Colorado River near Page, Arizona (Credit: Adrille, via Wikimedia Commons)
Months after conservation group American Rivers named the Colorado River the most endangered in the U.S., conditions are expected to worsen, according to NPR. The gloomy outlook follows one of the most stubborn droughts the U.S. has seen in years.
With less rainfall and low snowpack in the Rocky Mountains, it's little wonder that the river is running low. But left to the imagination is how those in the West are to deal with the low water flow.
As Lake Powell's reservoir is estimated to be at 48 percent capacity, agencies from seven surrounding states are meeting to forge response plans. The meeting will take place early June in San Diego.
Image: The Colorado River near Page, Arizona (Credit: Adrille, via Wikimedia Commons)