Connecticut-sized dead zone detected in Gulf of Mexico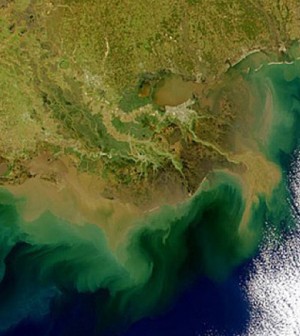 Researchers from the Louisiana Universities Marine Consortium have discovered that the nutrient-laden waters of the Mississippi River have caused a Connecticut-sized dead zone in the Gulf of Mexico, according to a release from NOAA.
The 5,840-square-mile  zone is the result of heavy spring precipitation, which increased the quantity of nutrients delivered into the Gulf.
Even though the dead zone is significant, NOAA-sponsored forecast models run earlier in the summer predicted that the oxygen-deprived area in the Gulf would be even larger—somewhere between 7,286 to 8,561 square miles.
Scientists attribute the smaller dead zone to increased wind-mixing events that disrupted oxygen-deprived waters.
Top image: In 2011, 6,800 square miles of dead zone occupied the Gulf of Mexico (Credit: NASA)