Consortium releases video on Deepwater Horizon spill modeling efforts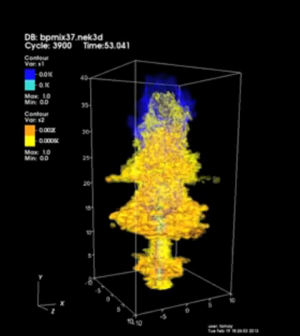 A new video from the Consortium for Advanced Research on Transport of Hydrocarbons in the Environment explains the extensive efforts scientists took to model the Deepwater Horizon oil spill, according to a University of Miami press release.
Many oceanographic and atmospheric elements were taken into account to create models for every stage of the spill, from the initial plume of oil gushing from the wellhead to Hurricane Isaac's effect on dispersion of oil through the gulf.
Modeling also included the largest upper ocean current observation project in oceanographic history, which employed more than 300 Lagrangian drifters with GPS tracking to observe currents.
"Looking into the future our main objective is to piece these models together so we have a frame work for actually getting this oil and gas plume from the wellhead all the way to where it went," said Tamay Ozgokmen, director of the consortium.
Top image: Modeled oil plume from the Deepwater Horizon well pipe (Credit: Consortium for Advanced Research on Transport of Hydrocarbons in the Environment)