Cornell Lake Source Cooling may spur DEC mandate for impact study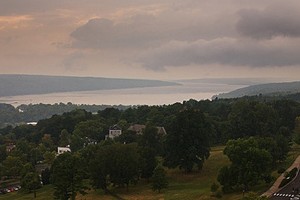 New York state officials will likely mandate water testing of Cayuga Lake by Cornell University due to phosphorus loading from Cornell's Lake Source Cooling facility, according to an Ithaca Journal article.
Cornell uses the lake water to cool some of its buildings. Discharge from the cooling facility contributes to 3 percent of the phosphorus deposited in the southern end of the lake each year.
New York Department of Environmental Conservation officials want the university to study how phosphorus loading affects the lake.  The study will cost near $2.1 million.
The study is part of a permit still in process for Cornell's water withdrawal and discharge.
Image: Cayuga Lake as seen from the Cornell campus (Credit: solarnu, via Flickr)