CubeSensors measure indoor environmental variables, offer tips to improve living conditions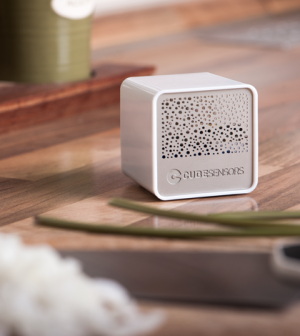 The CubeSensor developers wanted a design that would allow free airflow without looking like a complicated scientific instrument. (Credit: CubeSensors)
A small startup from Slovenia wants to build healthier households by making atmospheric monitoring technology accessible to homeowners.
The CubeSensor is a palm-sized monitoring system that evaluates atmospheric quality and provides users with relevant health and lifestyle suggestions through a companion web app. Seven sensors measure temperature, humidity, air quality, light, noise, barometric pressure and motion.
"We all have weather apps on our phones, but we know very little about what's going on in places where we spend on average 90 percent of our lives — our homes and offices," said Alja Isakovic of CubeSensors' outreach. "We decided it was time to find out how healthy the air we breathe is, and how little changes in our environment affect how we feel."
In development for more than two years, the CubeSensor has undergone a number of changes from its original prototype. The device started as a series of sensors attached to a circuit board. The developers wanted a design that would allow free airflow without looking like a complicated scientific instrument.
"We wanted the Cube to feel nice to touch, small enough to fit into the palm of the hand and elegant enough to fit in any type of room," Isakovic said.
The CubeSensor differentiates itself from other household monitoring products by reading air quality through the detection of volatile organic compounds. This method produces accurate measurements that are unaffected by ventilation systems.
While easy access to environmental data is certainly useful, the average homeowner probably wouldn't know what to do about a high humidity reading, or how barometric pressure affects their life. The CubeSensor addresses this by offering practical advice tailored to home and office through its web app. Users can shake the CubeSensor for instant air quality feedback: If the Cube glows blue, everything is fine. If the Cube glows red, users know to consult the app for further recommendations.
The CubeSensors team hopes to make continuous improvements on the CubeSensor throughout the product's life. Additionally, they're looking to developers for new apps that will expand the CubeSensor experience.
"One of our early customers has already created an app that connects sleep data from your FitBit personal tracker with the data from the Cube that monitors your bedroom," Isakovic said. "In this way, you can see if changes in your environment made your restless at night."
Although the CubeSensor is targeted at homeowners, researchers from various fields have already expressed interest in the product. When asked about future plans, Isakovic said the team is focused on the task at hand.
"We have a few ideas, but at the moment we're focusing our efforts on making the best CubeSensors possible," she said.
Top image: The CubeSensor developers wanted a design that would allow free airflow but wouldn't look out of place on a shelf (Credit: CubeSensors)