Data buoys help New England scientists predict moderate red tide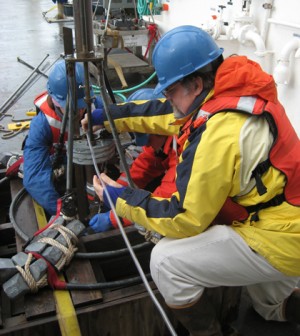 Data buoy observations and scientific analysis show New England's red tide should be moderate this year, according to a newsletter from the Northeastern Regional Association of Coastal Ocean Observing Systems.
Buoys deployed in the Gulf of Maine provided data on water quality and weather.  Historical data was also factored into the forecast.
A newly developed autonomous sampling device was also tested during the data collection by the Woods Hole Oceanographic Institution.  The environmental sample processor, developed by the Monterey Bay Aquarium Research Institute, collects water samples and analyzes DNA in the samples.
WHOI scientists also analyzed organisms in sediment samples.
Scientists were searching for concentrations of Alexandrium fundyense, algae that can poison shellfish and cause red tides.
Researchers from several New England universities, state and federal organizations contributed to the forecasting efforts.
Image: WHOI researcher Bruce Keafer, right, and colleagues prepare a corer to collect sediment samples from the seafloor. (Credit: Amy Lloyd-Rippe)