Data Show Florida Beach Bacteria Levels Vary By Location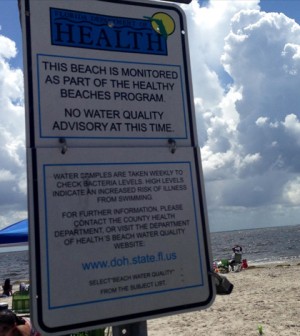 A posted sign about the Florida Healthy Beaches Program. (Credit: Lottie Watts / WUSF)
A program known as the Florida Healthy Beaches Program has been monitoring the water quality of various beaches of 34 coastal communities across the state for the past 15 years. The program, which operates on nearly $500,000 in federal funds for monitoring, has found that the quality of the beach seems to depend on its location.
Samples of bacteria, especially enterococci, are taken weekly at beaches and are then recorded. The data since 2000 have shown that beaches in Wakulla, Okaloosa, Franklin and Pasco all have very high advisory protocols, often warning beachgoers that it is not safe to swim.
Enterococci is a bacteria that forms naturally in the intestine, but when consumed, it can cause illness. Large amounts of it on any beach, indicate that there is a problem with waste, whether it be from animals, humans, or runoff from roads. The main drivers of such bacteria are lacks of water flow, breaks in sewage lines and runoff.
Top image: A sign about the Florida Healthy Beaches Program posted at Tampa's Ben T. Davis Beach. (Credit: Lottie Watts / WUSF)