Deep-Sea Expedition Finds Sea Sponge As Big As Minivan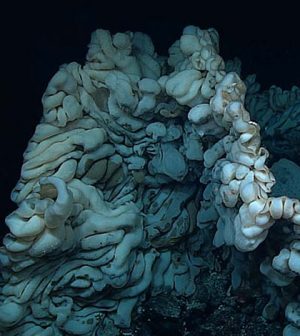 The large sea sponge. (Credit: NOAA Office of Ocean Exploration and Research)
Scientists with the National Oceanic and Atmospheric Administration (NOAA) have discovered the largest known sea sponge in the world, according to a release. The sponge, located in deep waters of a prominent marine national monument, is estimated to be as big as a minivan.
Researchers aboard the NOAA Ship Okeanos Explorer made the find while exploring waters in the Papahānaumokuākea Marine National Monument ranging from 2,300 to 16,000 feet in depth. They mostly relied on remotely operated vehicles to search the region, which recorded the sponge with high-definition cameras mounted onboard.
The large sponge, the genus of which still remains undetermined, was discovered at a depth of 7,000 feet. Scientists say the sponge is nearly 12 feet long and 7 feet wide, based on laser-measuring data. But pinpointing the true size of any sea sponge is difficult, experts say, as the animals lack growth rings and have bulbous, undulating shapes that can hide their true extent.
A research article describing the discovery has been published in the journal Marine Biodiversity.
Top image: The large sea sponge. (Credit: NOAA Office of Ocean Exploration and Research)