Delaware Environmental Observing System celebrates 10 years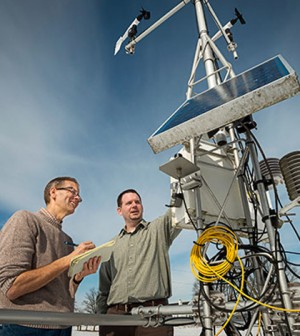 Inspecting a Delaware Environmental Observing System weather station. (Credit: University of Delaware)
The Delaware Environmental Observing System has been logging weather data for 10 years, according to a release from the University of Delaware. The network is managed by the university's College of Earth, Ocean and Environment.
Its first reading was taken on Feb. 24, 2004 with a single weather station that told just temperature and wind speed. From there, the network has grown into a much larger effort, comprising 51 monitoring stations and covering the entire state.
Data from the network have captured significant weather events over the past decade. And officials say it has helped to keep Delawareans informed during the United States' current winter. Network data have been used by the state's department of transportation, in media reports and the National Weather Service.
Image: Inspecting a Delaware Environmental Observing System weather station. (Credit: University of Delaware)