Detroit River's softer shorelines benefit wildlife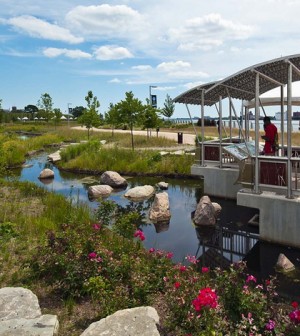 The Detroit River has gained new shorelines in recent years, according to Great Lakes Echo. The improvement projects have improved aesthetics and experts say they've also increased water quality in the area.
Most of the new shorelines are "soft shorelines," which are formed by removing old cement and steel pilings and replacing them with a mix of soil and native plants to create wetland habitats. Officials at the Detroit International Wildlife Refuge say fish and invertebrates appreciate the curvy shorelines that have been created.
Many of the projects have taken years to complete – one took nine years – and cost millions in federal dollars. But officials say they are worth the price. Beyond the improvements in water quality that have been seen, officials say the projects have also improved the quality of life along the river.
Image: Soft shoreline engineering along the Detroit River (Credit: JJR, via Flickr)