Diatoms Useful As Nutrient Pollution Indicators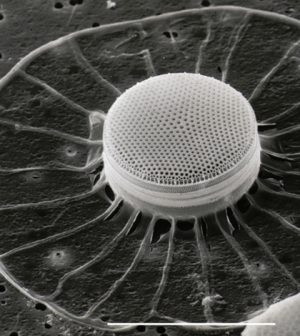 Scanning electron microscope image of a diatom. (Courtesy of Australia's Commonweath Scientific and Industrial Research Organization)
The U.S. Environmental Protection Agency is making a push to establish a framework for describing how 10 characteristics of aquatic ecosystems change in response to stressors, called the Biological Condition Gradient. With gradients already in place for fish and macroinvertebrates, scientists at Drexel University have found another that can aid in tracking nutrient pollution.
The researchers sifted through data from 1,400 Mid-Atlantic streams to assess if a small type of algae might serve as an indicator for nutrient pollution, like high levels of nitrogen and phosphorus. Within the dataset, they found that diatoms were the best for showing if nutrient pollution is a problem.
Essentially, scientists saw that the composition of diatom species is largely influenced by surrounding water quality. Through comparing that to New Jersey water standards, investigators found that diatom species in waters considered unimpaired were mostly made up of surface-attached species. In impaired waters, the diatoms more commonly had the ability to move.
Full results of the effort are published in the journal Science of the Total Environment.
Top image: Scanning electron microscope image of a diatom. (Courtesy of Australia's Commonweath Scientific and Industrial Research Organization)