Dissolved Oxygen Monitoring in Real-Time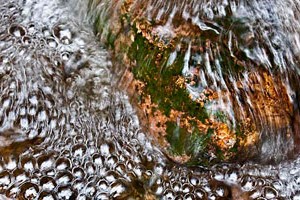 Overview
Dissolved oxygen, or how much oxygen is dissolved within the water, is vital for underwater life. It is what aquatic plants and animals use to breathe. Fish, invertebrates, bacteria, and plants all need dissolved oxygen for respiration. Dissolved oxygen is also necessary for the decomposition of organic matter.
Many applications require continuous monitoring of dissolved oxygen in a water body to ensure underwater life is not jeopardized. For example, while the benefits of hydroelectric plants certainly outweigh the costs, the construction of these plants can be disruptive to surrounding aquatic ecosystems. Dissolved oxygen content of the water may change from pre-construction conditions. Thus, hydroelectric dam operations are commonly required by their FERC (Federal Energy Regulatory Commission) permit to perform regulatory monitoring of the water quality at certain locations upstream and downstream of the plant to monitor the dissolved oxygen.
Fondriest Environmental provides flexible and powerful dissolved oxygen monitoring systems. Offering a wide array of sensors, data logging, telemetry, and data management options and features, these systems can address an extensive range of project needs.
Real-Time Dissolved Oxygen Monitoring System Configuration
Selecting a Location
System location depends largely on site conditions. PVC deployment pipes can be mounted along the bank or seawall in stream and river applications. The PVC pipe should have perforations at the bottom to allow fresh sample to pass over the face of the sensors. A stainless steel bottom-pin should also be installed at the bottom of the pipe to keep the sensor in a fixed position.
Oftentimes, site conditions make it difficult or impossible to mount equipment along the shore. When this is the case, buoy-based systems offer the most cost-effective solution. NexSens CB-400 and CB-800 coastal data buoys are ideal for deploying temperature strings, multi-parameter sondes and other sensors in small reservoirs, lakes, rivers, streams, and protected coastal waters. The buoy-based systems are solar-charged and offer options for wireless radio or cellular telemetry.
Systems can also be placed inside facilities, such as a hydroelectric dam or other industrial complexes that use raw water from a river or stream. This in-facility option has several advantages. AC power allows for more powerful sensors and other more sophisticated lab systems.
Selecting a Sensor
There are many field dissolved oxygen sensors available from manufacturers such as NexSens, YSI, In-Situ, and Turner Designs. Multi-parameter water quality sondes offer the ability to measure multiple parameters in a single, compact sonde simultaneously. Alternatively, in-facility systems are available from manufactures such as ATI, which offers the Q45D Dissolved Oxygen Monitor or the Q45D-ODO Optical Dissolved Oxygen Monitor.
These dissolved sensors typically output a digital or analog signal that interfaces with NexSens iSIC or SDL data loggers. Common interfaces include RS-485, SDI-12, 1-wire temp string, 0-2.5 VDC, 4-20mA, and more.
Data Logging and Telemetry
At the core of the system is a NexSens iSIC or SDL data logger. The data logger can be pole mounted, housed in a secondary enclosure, outfitted on a floating buoy platform, or positioned inside a facility. Options are available for solar or AC power. When configured with telemetry, data can be transmitted in real-time from a remote site to a project computer, eliminating the need for periodic site visits to upload data.
Two factors help determine the best telemetry method: site conditions and distance to the project computer. When the project computer can be located within a few miles (line-of-site) or few hundred feet (non-line-of-site), license free spread spectrum radio telemetry is the best choice. If the project site is remotely located relative to the project computer, cellular telemetry becomes the best option. Options are also available for landline phone, Ethernet, or WiFi telemetry if the site has access to a landline, Ethernet hub or WiFi network.
Alarm Notification
These systems offer two types of alarms; software and data logger. Software alarms are used to notify persons via SMS text messaging or email of parameters exceeding pre-defined parameter limits. NexSens iChart Software sends the alarm when it receives data from the data logger. Data logger alarms are used to change the functionality of the data logger based on parameter inputs, such as changing sample and log intervals based on a particular logged reading.
Once the dissolved oxygen alarm limits are determined, the values are entered into NexSens iChart Software. When DO levels exceed this pre-defined range, a text message or email is automatically sent to a pre-defined list of contacts to take appropriate actions. Typically, this involves notifying nearby water plants of the alarm condition.
Managing Data
After systems are set up, data is logged at a user-defined interval (minimum 1 minute). The user also sets the interval at which data is transmitted via radio or cellular telemetry. A typical system logs water quality data every 10 minutes and transmits every 30 minutes.
Data is transmitted to a nearby (or remote) computer running iChart Software. iChart is a user-friendly software package that serves as the centralized interface and database for all incoming data. All data and sensor configuration settings are also stored in a single iChart database.
The software offers a unique historical report creation tool that can generate customized reports with data from all sensors in an iChart database. When creating a report, users can include specific information about the monitoring site, location, sensors, and project. After creation, reports can be converted to PDF, exported to Microsoft Excel, sent to interested parties via e-mail, uploaded to a web server, and more. The report template can also be saved and automatically generated, further automating the reporting process.
The NexSens WQData web datacenter is an optional service that automatically generates an online graphical interface for viewing, analyzing, and downloading data in real-time. This datacenter allows project members and stakeholders to remotely experience the project information and data in order to monitor lake water quality as it occurs.
Rental Equipment and On-Site Services
While it often makes sense to purchase systems outright, there are many short-term projects that make it cost-prohibitive. Fondriest offers real-time systems with weekly and monthly rental rates to meet project requirements.
To ensure customers can begin using their water quality station as quickly and efficiently as possible, our application engineers are available for training and technical support, both by phone and in person. Our company offers both extensive field experience and a wide array of deployment hardware to facilitate seamless implementation of the project.
For more information, call a Fondriest Environmental product specialist at 888.426.2151 or email customercare@fondriest.com.
If you are looking for portable DO sampling solutions instead, please see dissolved oxygen meter options.