Edmonton tar sands leakage under investigation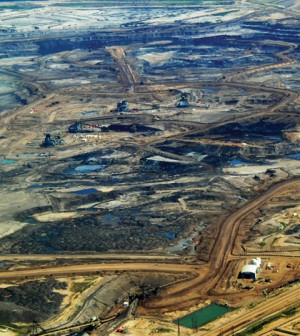 Environment Canada is investigating ongoing leakage from a tar sands facility in Edmonton, according to a report from Canada.com.
Bitumen emulsion, a thick black tar liquid, is seeping from four sites of the oil sands firm Canadian Natural Resources Limited in a military weapons testing range outside the City of Cold Lake.  A form of bitumen emulsion is commonly used to seal driveways.
Alberta's provincial regulating bodies have been monitoring the soil and water quality nearby to keep tabs on the effects of the leaks.  So far the spill has killed wildlife and left trees in the area stained with thick black sludge.
The leaks have been attributed to mechanical failures in well bores. Canadian Natural Resources Limited is working with government regulators to clean affected areas.
The method used in the wells for crude extraction involves injecting superheated steam into the ground to liquefy bitumen and extract it through cracks created by the injection process. The problem is scientists can't tell where the leaks are coming from, according to the Toronto Star.
Image: Tar sands oil field (Credit: Dru Oja Jay, Dominion)