Researchers use seismographs, GPS to track Antarctic ice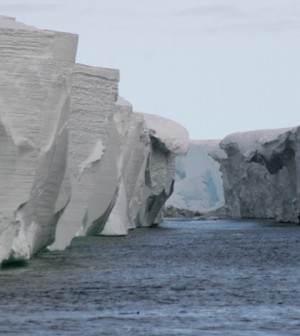 Ross Ice Shelf (Credit: lin padgham, via Wikimedia Commons)
Investigators at Washington University in St. Louis will install seismographs to weigh important sections of Antarctic ice, according to a release. The devices will measure post-glacial rebound near the West Antarctic Ice Sheet and the Ross Ice Shelf.
The seismograph data can be used to determine post-glacial rebound and to calculate how much ice has been lost. Combined with those measurements are others collected by GPS units that measure the rate of bedrock rebound.
Research using the GPS units has been ongoing for six years as part of the Polar Earth Observing Network led by Ohio State University. Continued support for the network and new seismographs will be provided by the National Science Foundation.
Image: Ross Ice Shelf (Credit: lin padgham, via Wikimedia Commons)