Environmental organizations collaborate to educate on Great Lakes climate change adaptation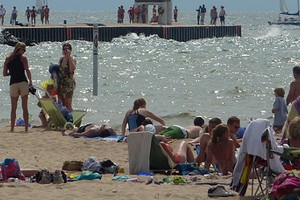 A collaboration of environmental organizations will give citizens living near the Great Lakes avenues to learn and adapt to possible climate change, according to Buffalo Niagara Riverkeeper.
Freshwater Future and EcoAdapt are working together to create resources for Great Lakes communities facing the possibility of a changing climate and a changing lake as a result.
The initiative is called the Great Lakes Community Climate Program. It provides citizens access to two symposia per year, a climate adaptation tool kit and a grant program to address climate change adaption.
The next symposium will be held in Cleveland this spring.
Image: A Lake Michigan beach near Holland, Mich. (Credit: Andrew Hill, via Flickr)