EPA and USGS will assess Midwest streams in 2013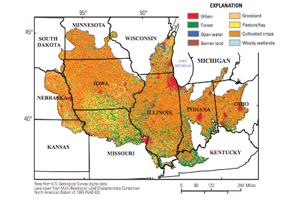 A collaborative effort between federal environmental agencies will assess the health of streams across the Midwest in 2013, according to the U.S. Geological Survey.
The USGS and the U.S. Environmental Protection Agency will sample as many as 100 sites in streams in the region this spring and summer. They'll evaluate contaminants, nutrients, sediments and ecological conditions in an effort to build models for predicting conditions in unsampled streams. Contaminants analyzed will include pesticides and s polycyclic aromatic hydrocarbons.
Image: The Midwest Stream Quality Assessment study area (Credit: USGS)