EPA defends proposed ballast water regulations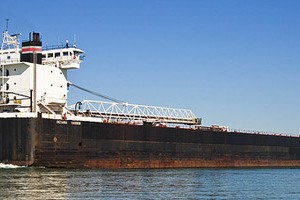 Environmental groups criticizing recently proposed federal ballast water regulations say the draft rules don't go far enough to stop ships from carrying new invasive species into the Great Lakes.
The Environmental Protection Agency's new rules would have ships treat ballast until an acceptably low concentration of organisms remains in the water. Opponents say the concentrations that the rules consider acceptable is still too high because even a very few organisms could be enough to start a breeding population. The EPA says a lower standard isn't achievable with current technology. One environmental group says it would likely sue if the rules are finalized.
Read more at the Chicago Tribune.
Image credit: Michigan Radio