EPA, HHS announce finalists for air pollution sensor challenge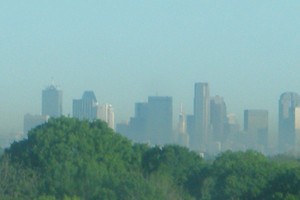 The U.S. Environmental Protection Agency and the Department of Health and Human Services announced four finalists in their My Air, My Health air pollution sensor challenge, according to an EPA release.
The competitors proposed plans for a wearable air quality sensor that records pollutants in concert with bodily function. The goal of the competition is to apply existing technology to a platform that will simultaneously output data on a potential cause for health issue and the effect it has on the subject.
The four finalist teams will be awarded $15,000 to build the sensor platform they proposed. The winner will receive $100,000. The four finalists each proposed very different technologies.
Finalists according to the news release are below:
Guy Shechter, Mark Aloia, Johan Marra, Arpana Sali, Ronald Wolf of Phillips Healthcare proposed particle sensing devices that also measure respiratory function and vital signs.
Michael Taylor, of Carnegie Melon University, Michael Heimbinder of Brooklyn N.Y., and Carlos Restrepo and George D. Thurston, of New York University, proposed a mobile application and website to link exposures to carbon monoxide and fine particulate matter with heart rates and blood oxygen levels.
Gabrielle Dockterman, of Carlisle Mass., David Kuller of Milan, Italy and Dot Kelly of Darien, Conn. proposed athletic clothing that measures airborne pollutants and relevant health metrics.
Aaron Hechmer, of El Cerrito, Calif., proposed integrated modular air quality sensors, breathing games, and a software package that promotes public sharing of health information.
Image credit: Turn685, via Wikimedia Commons