EPA letter warns on danger of tar sands oil pollution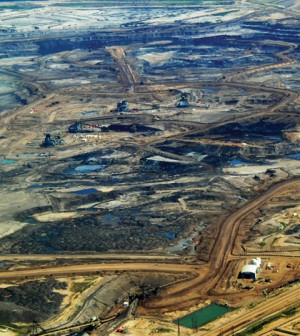 A letter from the U.S. Environmental Protection Agency to the U.S. State Department concerning the proposed Keystone Oil Pipeline states that the tar sands oil is more environmentally threatening than traditional crude oil and harder to clean from bodies of water.
The letter states that experience from cleanup efforts of a tar sands oil spill in Michigan's Kalamazoo River shows that the oil sinks and is harder to locate.  The EPA determined that intensive dredging will need to take place to clean oil from the river's sediment.
In a National Public Radio report, Stephen Hamilton, a Michigan State University professor of ecology and biogeochemistry said that the oil is so sticky everything it touches must be removed from a spill location to completely clean the area. Detergents will not adequately remove the oil.
The EPA letter also mentioned that tar sands oil produces 81 percent more greenhouse gasses than refining of crude oil.
Image: Tar sands oil field (Credit: Dru Oja Jay, Dominion)