EPA releases new recreational water quality criteria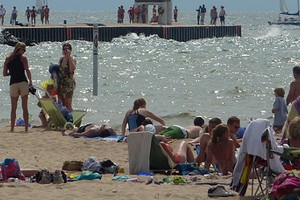 The U.S. Environmental Protection agency released a new set of recreational water quality criteria based on modern science to give state officials ideas to improve safety of recreational waters, according to an EPA press release.
The criteria include increasing sampling, averaging smaller data sets and reporting potential threats more quickly.  Short and long term bacteria assessments are also part of the criteria.
The EPA outlines the practices with their recommended methods on a web page dedicated to recreational water quality.
Image: A Lake Michigan beach near Holland, Mich. (Credit: Andrew Hill, via Flickr)