EPA seeks tighter water quality restrictions for mountaintop removal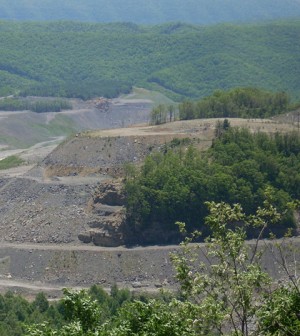 A recent court decision supports the U.S. Environmental Protection Agency's efforts to tighten  water quality rules for mountaintop mining, according to the L.A. Times. The ruling came in a suit against the agency's attempt to limit Spruce Mine, the largest mountaintop removal mine ever planned in West Virginia.
Mountaintop mining removes large areas of elevated land through controlled explosions to reach coal seams. The process creates tons of rubble and debris, which often settles in low lying adjacent land where streams and rivers flow. Under the Clean Water Act, the EPA argued that this practice "could damage water quality and aquatic life."
Now with court support, the EPA plans to more thoroughly review permit applications, including requiring more studies of mining impacts, new tests for potential toxic discharges, and new lower conductivity limits in waterways.
Image: A mountaintop removal mine in Kentucky (Credit: Jake McClendon, via Flickr)