EPA to fund Great Lakes biological monitoring program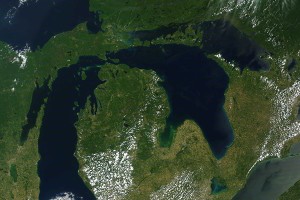 Citing recent drastic changes in the makeup of the Great Lakes ecosystem, the U.S. Environmental Protection Agency is seeking applications for a five-year, $4-million biological monitoring program for the Great Lakes.
The program will continue the open-water Great Lakes monitoring the EPA has conducted since the early 1980s. The monitoring focuses on the open waters to better track whole-lake trends.
Samples collected during five annual spring and summer surveys of all five Great Lakes will be analyzed for chlorophyll, zooplankton and benthic organisms. The results of the monitoring could benefit state and tribal fish stocking programs, invasive species control and detection, and the ability to forecast invasive species effects on the lower food web.
For information about the request for applications and the monitoring programs is available here.
Image: Space Science and Engineering Center, University of Wisconsin-Madison