EPA wants San Francisco Bay Delta monitoring plan by 2017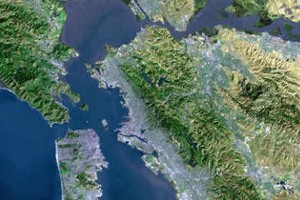 The San Francisco Bay area (Credit: USGS, via Wikimedia Commons)
A restoration plan for the San Francisco Bay Delta released recently by the U.S. Environmental Protection Agency calls for a water quality assessment and monitoring program to be in place by 2017, according to a release from the agency.
The monitoring plan is one of seven measures the EPA proposes to help improve water quality and restore natural habitat in the delta. Other measure include limits on selenium discharges, curbing pesticides and restoring wetlands and floodplains.
The San Francisco Bay Delta Action Plan is the result of an EPA analysis that found federal and state water quality programs aren't sufficiently protective of the system, which provides drinking water for 25 million people and irrigation for 4 million acres of farmland.
Image: Satellite map of San Francisco Bay (Credit: USGS, via Wikimedia Commons)