EPA: Water system upkeep to reach $384 billion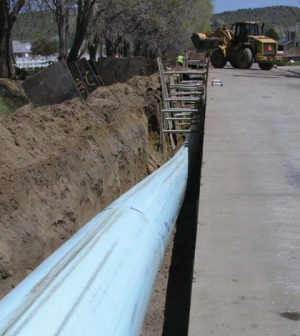 Aging water systems in the U.S. need more than $384 billion in maintenance in the next 20 years, according to a report from the EPA (PDF). The largest upgrades are needed in projects to ensure transport and distribution of drinking water.
Cost for upgrading those systems in charge of moving water will run $247.5 billion and the report says most pipelines need to be replaced. Experts say the lifespan of those pipelines depends on soil characteristics, weather conditions and the material it's made of.
Many of the underground aquifers supplying water to the Great Plains have reached extreme lows and experts are concerned that the nation's freshwater lakes can compensate. The top five states needing upgrades are New York, California, Texas, Wisconsin and Illinois.
Image: Water main upgrade in Carson City, Nev. (Credit: Michelle Stamates, Nevada Division of Environmental Protection)